Eleven students from New College Bradford received awards at this year's Bradford CTE Awards, organised by the Bradford City Council Careers and Technical Education team. Aruba Bibi, one of the college's Year 12 students, won the prestigious Public Services and Law Student of the Year award, in recognition of her exceptional efforts to develop her employability skills alongside her academic skills. In particular, the panel were impressed with the significant amounts of work experience that she has organised in national law firms and barristers chambers, as well useful mentoring.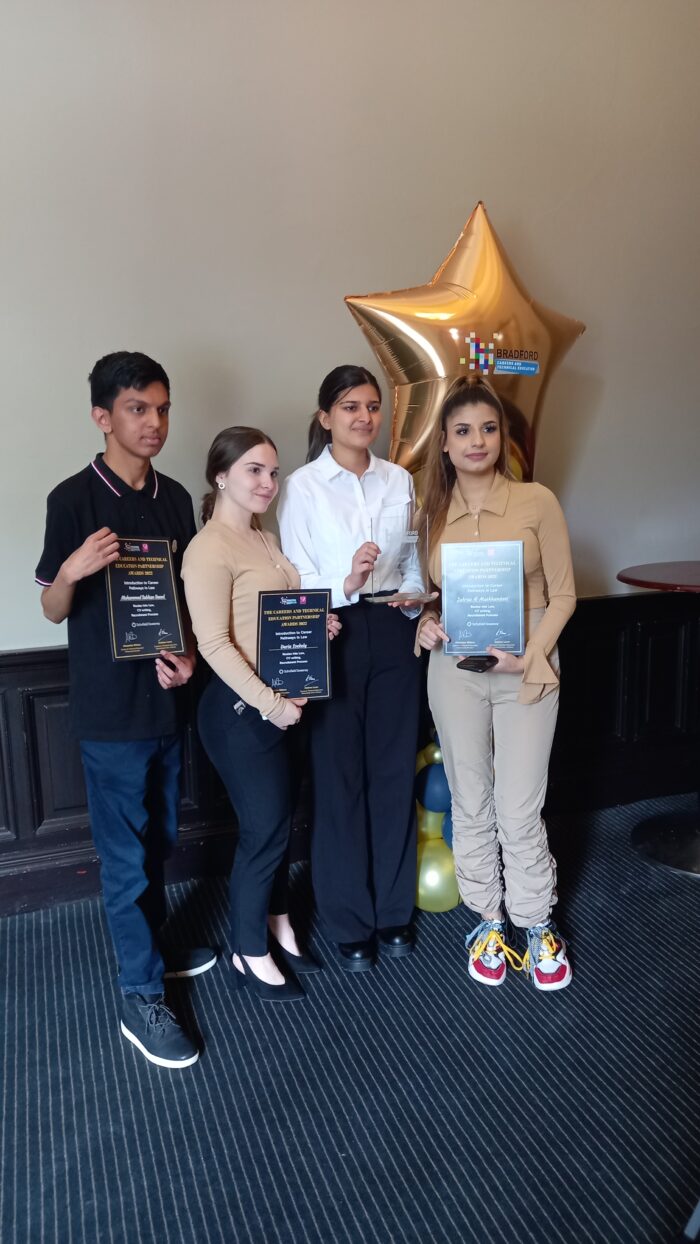 Natalie Lo Re, Head of School for Law and Accounting, said "Aruba is an outstanding law student here at New College Bradford. Like many sectors, work experience is difficult to obtain, even more so since the pandemic began. Despite this, Aruba has secured not one but two work experience opportunities in top law firms such as DLA Piper and Eversheds Sutherland, and a place on a Bar placement scheme in a chambers in Leeds. Aruba sought out these opportunities relentlessly and did not give up despite many pushbacks. As a result, Aruba has first-hand insight into the legal profession and has learnt skills and developed confidence and qualities law students aspire to possess. During her work experience with DLA Piper, Aruba secured a mentoring scheme where they will enhance her interview, legal and technical skills right up until she successfully qualifies as a lawyer. Aruba is determined to break down barriers and show people that you do not have to be defined by your postcode or background."
Nine other students also received certificates for taking part in the experience day offered by Schofield Sweeney, exclusively for New College Bradford students. On the day, the students benefited from workshops from both trainee solicitors and legal apprentices, looking at different routes into the profession and benefiting from tips to secure jobs in the future.
Jim Robinson, Assistant Principal, was also shortlisted for the Outstanding Educator of the Year Award. Jim commented "Aruba and the other students deserve the awards for all they have done to help prepare for their futures in legal careers. It is also great recognition for the exceptional work of staff at New College Bradford to support our students. These great links with employers, both in the city and further afield, are one of the reasons why our students achieve such excellent destinations, in employment, apprenticeships and higher education, with some of the highest rates of progression to university in the country and many students achieving competitive apprenticeships. It is this kind of work that led Ofsted to comment recently that staff at college 'guide students effectively to secure their next steps', including offering 'high-quality work placements', meaning students 'progress to positive destinations'. We are looking forward to results day this summer where our second ever cohort of Year 13 students will achieve their qualifications and begin the next steps in their futures."