Applications for September 2024 are now open! Check out our courses and then click on the button below to start the application process.
If you have any questions or queries about anything relating to applying to New College, please contact Student Services on 01274 089189.
PLEASE NOTE – The application deadline is Friday 19 February 2024. Applications are still taken after this date, but priority will be given to students who applied before the deadline.
The Five Steps to Enrolment
Attend one of our Open Events (optional but strongly recommended) – students and parents are very welcome. Opportunities to listen to a short presentation by the Principal and speak to subject staff and students. Check out our Open Events webpage for the latest dates of events.
Apply online using our online application system.
Attend an interview where you will be hopefully offered a conditional place. We will write to you with all the details in advance.
Get involved in one of our advertised events throughout the year to experience college life.
Bring proof of your qualifications to Enrolment Day and become an official New College student.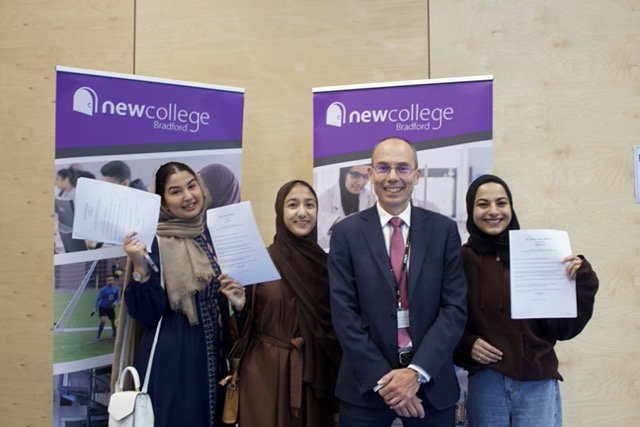 Apply now for September 2024
The deadline for applications is February 19 2024
Watch our new virtual tour
Take a walk around our Campus on our Matterport interactive 3D tour. See the facilities we have to offer, the learning environments and the corridors you'll be walking during your time with us at New College.
Drag your cursor (or finger on mobile/tablet) to look around spaces
Click or press the white circles on the ground to navigate your way through the buildings
Click the icons in the lower left corner to change your view and jump to other areas