In association with Skills for Work, Bradford Council, we are proud to be able to offer the following learning opportunities to the parents, carers and other adult family members of New College Bradford students.
Introduction to English Course
Arabic
استأجر مجلس برادفورد مدرسًا للبالغين الذين لغتهم الأم ليست الإنجليزية أو الذين لا يتحدثون الإنجليزية. تبدأ الدورات في فبراير. هاتف 01274 433648 أو 432170 إذا كنت ترغب في القيام بذلك.
astajar majlis biradfurd mdrsan lilbalighin aladhin laghathum al'umu laysat al'iinjiliziat 'aw aladhin la yatahadathun al'iinjiliziata. tabda aldawrat fi fibrayir. hatif 01274 433648 'aw 432170 'iidha kunt targhab fi alqiam bidhalika.
Bangla
ব্র্যাডফোর্ড কাউন্সিল প্রাপ্তবয়স্কদের জন্য একজন শিক্ষক নিয়োগ করেছে যাদের মাতৃভাষা ইংরেজি নয় বা যারা ইংরেজি বলতে পারে না। কোর্সগুলি ফেব্রুয়ারিতে শুরু হয়। আপনি যদি এটি করতে চান তাহলে টেলিফোন 01274 433648 বা 432170।
Bryāḍaphōrḍa kā'unsila prāptabaẏaskadēra jan'ya ēkajana śikṣaka niẏōga karēchē yādēra mātr̥bhāṣā inrēji naẏa bā yārā inrēji balatē pārē nā. Kōrsaguli phēbruẏāritē śuru haẏa. Āpani yadi ēṭi karatē cāna tāhalē ṭēliphōna 01274 433648 bā 432170.
Punjabi
ਬ੍ਰੈਡਫੋਰਡ ਕੌਂਸਲ ਨੇ ਉਹਨਾਂ ਬਾਲਗਾਂ ਲਈ ਇੱਕ ਟਿਊਟਰ ਨਿਯੁਕਤ ਕੀਤਾ ਹੈ ਜਿਨ੍ਹਾਂ ਦੀ ਮੂਲ ਭਾਸ਼ਾ ਅੰਗਰੇਜ਼ੀ ਨਹੀਂ ਹੈ ਜਾਂ ਜੋ ਅੰਗਰੇਜ਼ੀ ਨਹੀਂ ਬੋਲ ਸਕਦੇ। ਕੋਰਸ ਫਰਵਰੀ ਵਿੱਚ ਸ਼ੁਰੂ ਹੁੰਦੇ ਹਨ। ਜੇਕਰ ਤੁਸੀਂ ਅਜਿਹਾ ਕਰਨਾ ਚਾਹੁੰਦੇ ਹੋ ਤਾਂ ਟੈਲੀਫੋਨ 01274 433648 ਜਾਂ 432170 'ਤੇ ਸੰਪਰਕ ਕਰੋ।
Braiḍaphōraḍa kaunsala nē uhanāṁ bālagāṁ la'ī ika ṭi'ūṭara niyukata kītā hai jinhāṁ dī mūla bhāśā agarēzī nahīṁ hai jāṁ jō agarēzī nahīṁ bōla sakadē. Kōrasa pharavarī vica śurū hudē hana. Jēkara tusīṁ ajihā karanā cāhudē hō tāṁ ṭailīphōna 01274 433648 jāṁ 432170'tē saparaka karō.
Gujarati
બ્રેડફોર્ડ કાઉન્સિલે એવા પુખ્ત વયના લોકો માટે ટ્યુટર રાખ્યા છે જેમની મૂળ ભાષા અંગ્રેજી નથી અથવા જેઓ અંગ્રેજી બોલી શકતા નથી. કોર્સ ફેબ્રુઆરીમાં શરૂ થાય છે. જો તમે આ કરવા માંગતા હોવ તો ટેલિફોન 01274 433648 અથવા 432170.
Brēḍaphōrḍa kā'unsilē ēvā pukhta vayanā lōkō māṭē ṭyuṭara rākhyā chē jēmanī mūḷa bhāṣā aṅgrējī nathī athavā jē'ō aṅgrējī bōlī śakatā nathī. Kōrsa phēbru'ārīmāṁ śarū thāya chē. Jō tamē ā karavā māṅgatā hōva tō ṭēliphōna 01274 433648 athavā 432170.
Urdu
بریڈ فورڈ کونسل نے ان بالغوں کے لیے ایک ٹیوٹر کی خدمات حاصل کی ہیں جن کی مادری زبان انگریزی نہیں ہے یا جو انگریزی نہیں بول سکتے۔ کورسز فروری میں شروع ہوتے ہیں۔ اگر آپ یہ کرنا چاہتے ہیں تو ٹیلی فون 01274 433648 یا 432170 پر رابطہ کریں۔
Hindi
ब्रैडफोर्ड काउंसिल ने उन वयस्कों के लिए एक ट्यूटर नियुक्त किया है जिनकी मूल भाषा अंग्रेजी नहीं है या जो अंग्रेजी नहीं बोल सकते हैं। पाठ्यक्रम फरवरी में शुरू होते हैं। यदि आप ऐसा करना चाहते हैं तो टेलीफोन 01274 433648 या 432170।
braidaphord kaunsil ne un vayaskon ke lie ek tyootar niyukt kiya hai jinakee mool bhaasha angrejee nahin hai ya jo angrejee nahin bol sakate hain. paathyakram pharavaree mein shuroo hote hain. yadi aap aisa karana chaahate hain to teleephon 01274 433648 ya 432170.
German
Bradford Council hat einen Tutor für Erwachsene eingestellt, deren Muttersprache nicht Englisch ist oder die kein Englisch sprechen können. Die Kurse beginnen im Februar. Telefon 01274 433648 oder 432170, wenn Sie dies wünschen.
Slovak
Bradford Council najala tútora pre dospelých, ktorých rodným jazykom nie je angličtina alebo ktorí nevedia po anglicky. Kurzy začínajú vo februári. Ak si to želáte, zavolajte na číslo 01274 433648 alebo 432170.
Romanian
Consiliul Bradford a angajat un tutore pentru adulții a căror limbă maternă nu este engleza sau care nu vorbesc engleza. Cursurile încep în februarie. Telefonați la 01274 433648 sau 432170 dacă doriți să faceți acest lucru.
Polish
Rada Bradford zatrudniła korepetytora dla dorosłych, których językiem ojczystym nie jest angielski lub którzy nie mówią po angielsku. Kursy rozpoczynają się w lutym. Zadzwoń pod numer 01274 433648 lub 432170, jeśli chcesz to zrobić.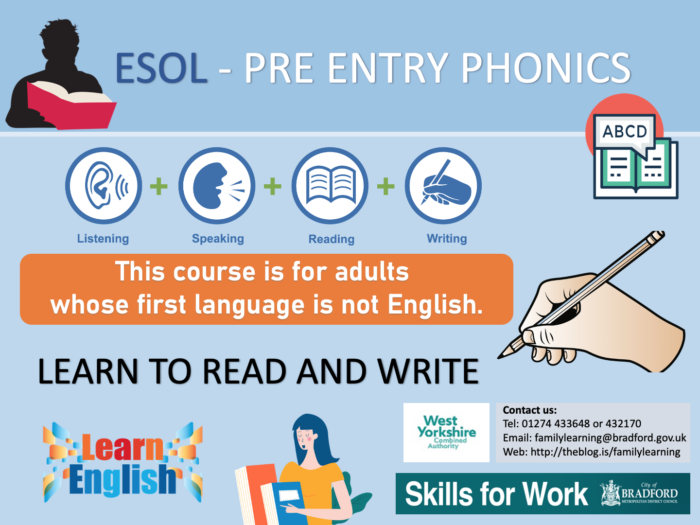 Supporting Your Child – Anti-Bullying Support
This is an online Parent Support Group which is run by the Bradford and Craven NHS Mental Health Support Team. The monthly online support sessions are held over Zoom and are facilitated by mental health practitioners. The sessions encourage parents/carers participation – providing a safe space for them to share experiences, build positive relationships and receive peer support. Alongside this, the parents will receive useful information and strategies around the chosen monthly topic.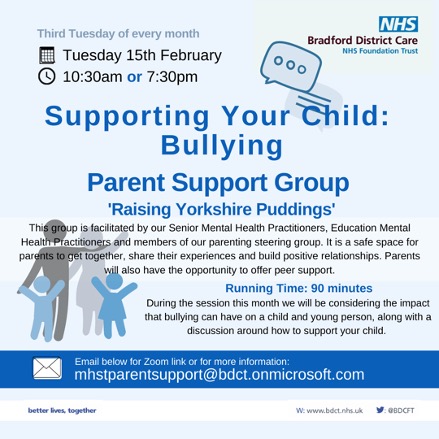 Level 2 Award in Food Safety – Skills for Work – 4 week course
University of Hull FutureLearn Courses
The University of Hull has been changing the way people think for more than 90 years. As England's 14th-oldest university, they have a proud heritage of academic excellence, life-changing research and excellent teaching. Their vision is to shape a fairer, brighter and carbon neutral future for all. As the Official University Partner of Team GB they believe extraordinary is in everyone, and together with Team GB, they're going to help you find it.
CV Workshop
9th and 16th December – 9.30am till 12.00noon at St Peters House, Bradford Centre. We have a few spaces still available for customers who are wanting to make a new CV or enhance their current one, please see attached leaflet.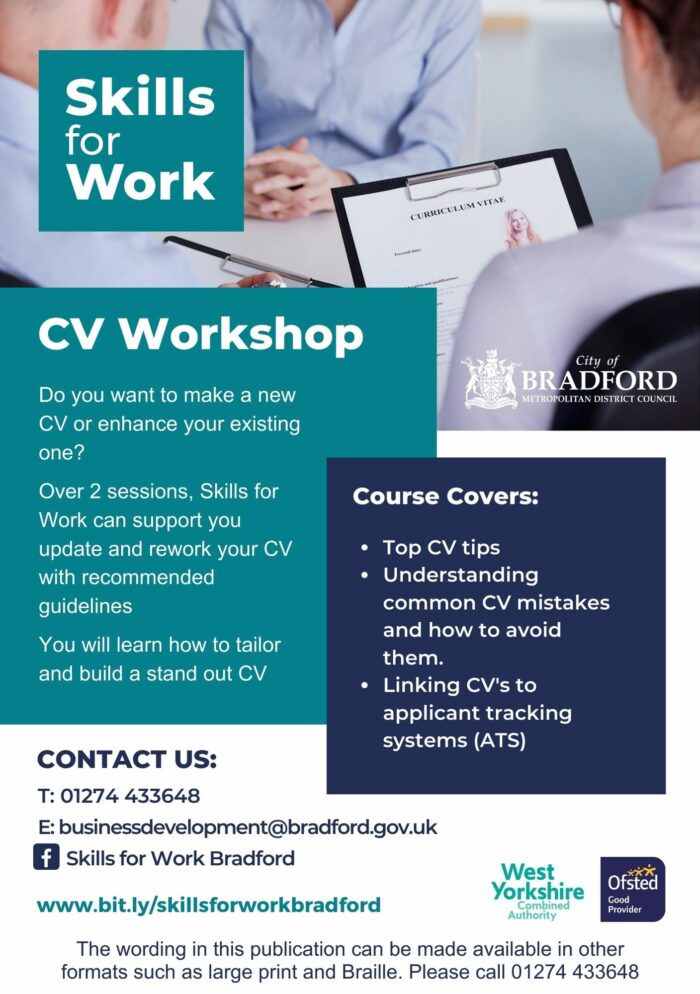 Teaching Assistant Level 2 Award
We will be delivering this course in both Bradford (St Peters House) and Keighley (Keighley Library), this course is starting in the next couple of weeks and is ideal for those looking to work in a school/teaching environment. The course will last approx. 20 weeks and it will be ½ day per week. Available to anyone 19yrs plus due to funding – See attached leaflet for more information.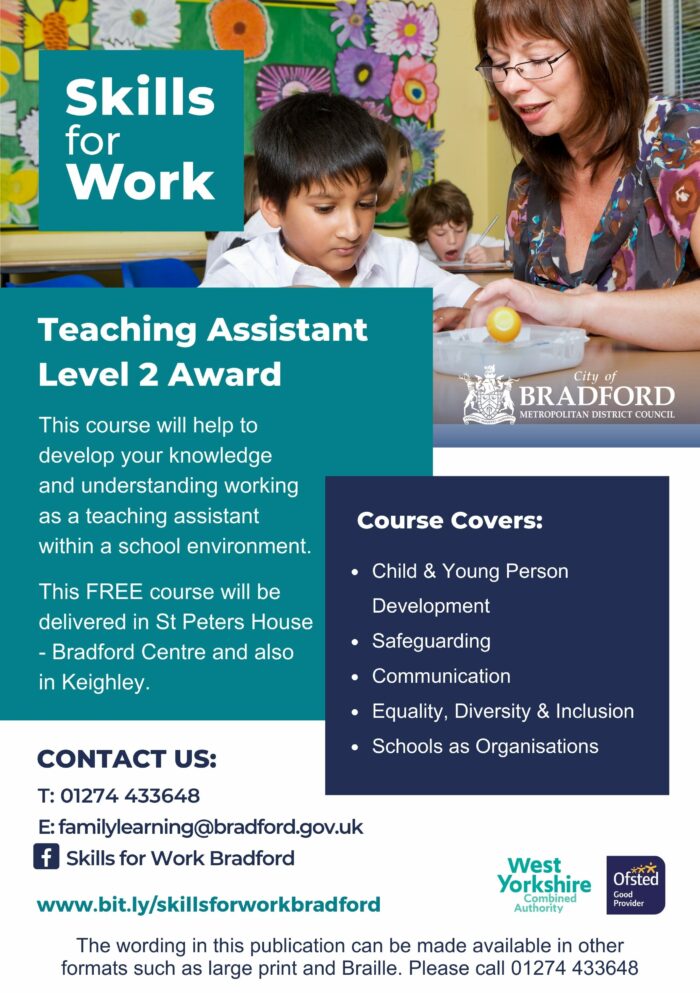 'New Year, New You' Courses and Opportunities available through Skills for Work, Bradford Council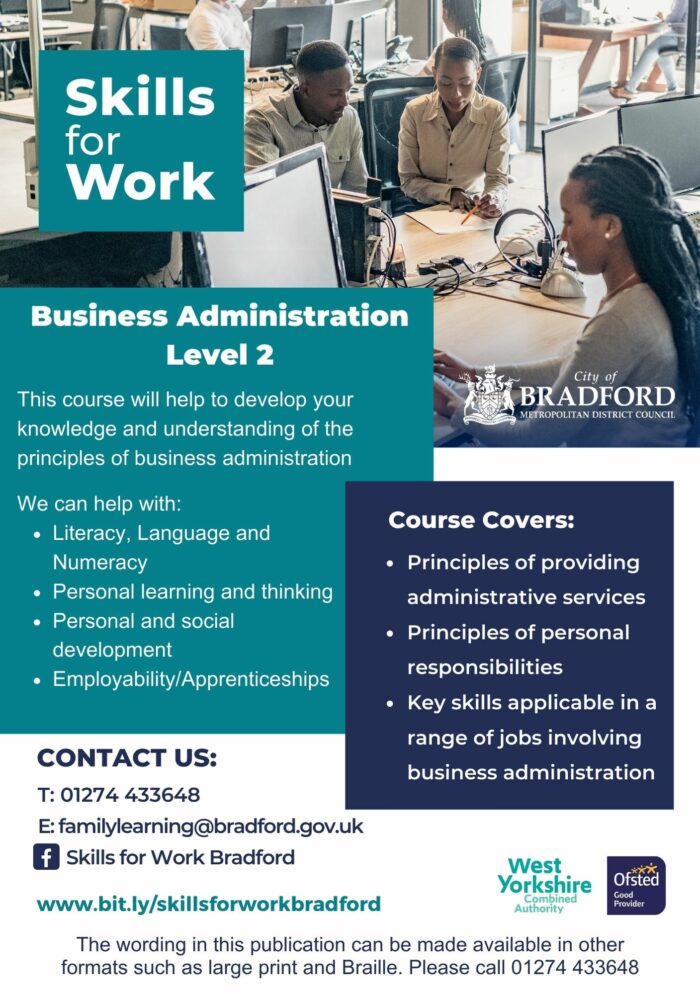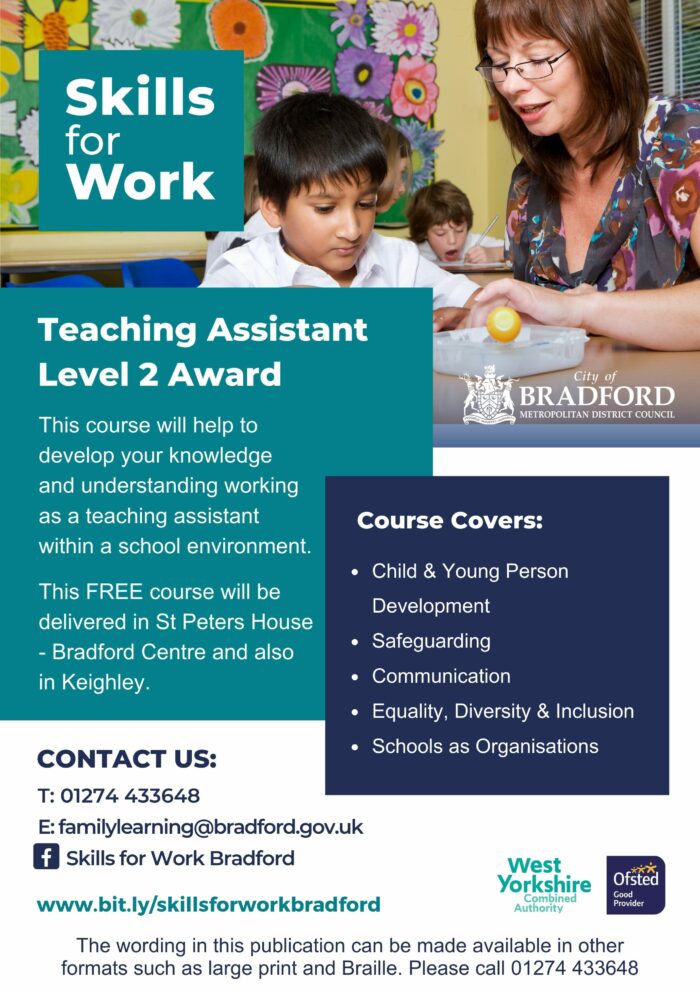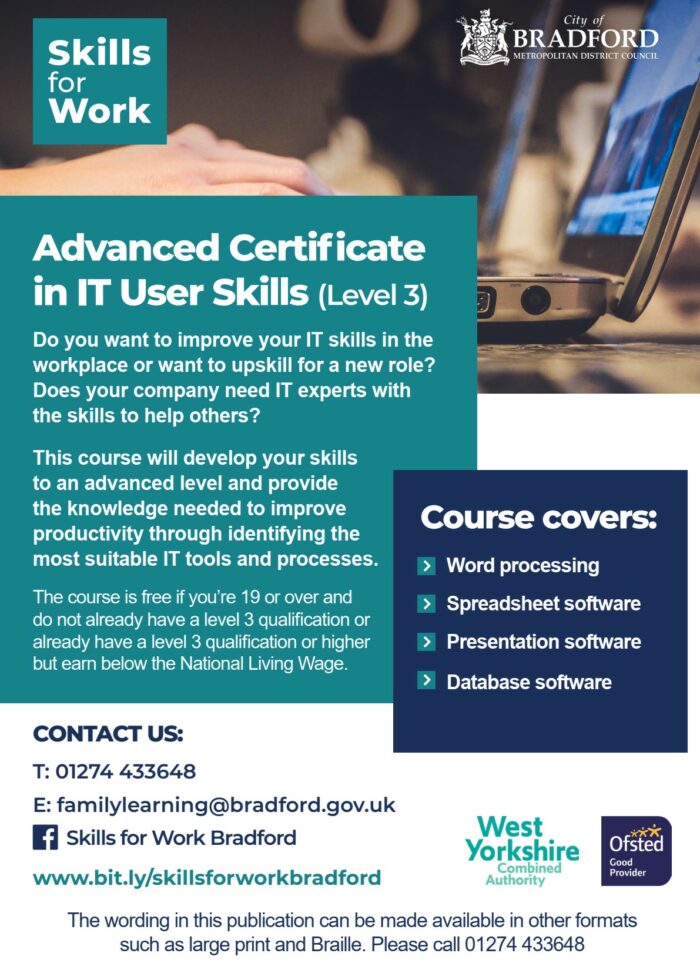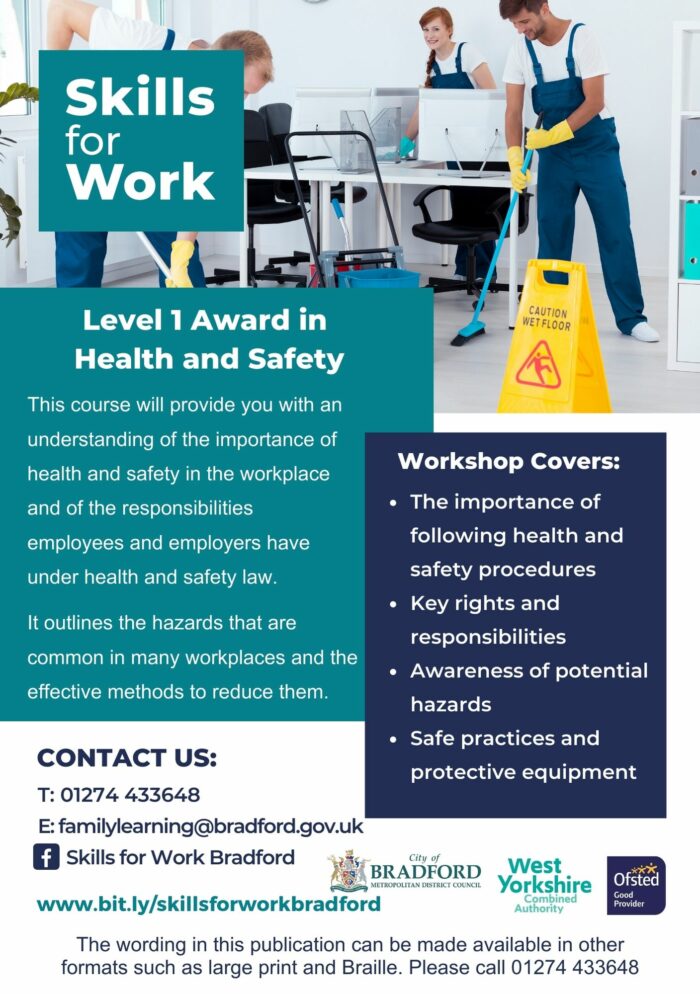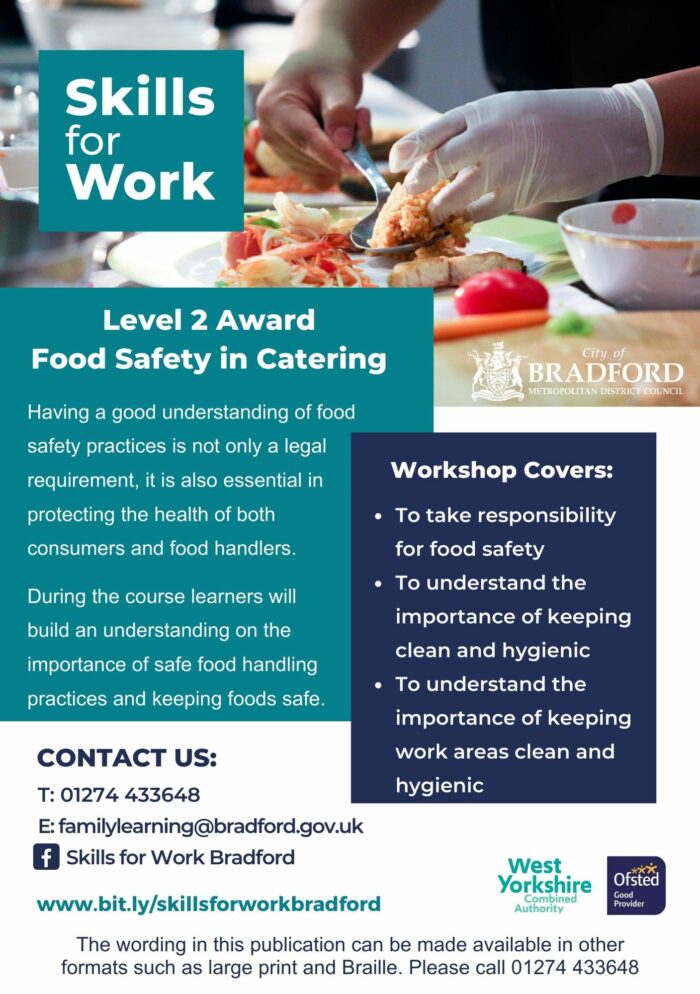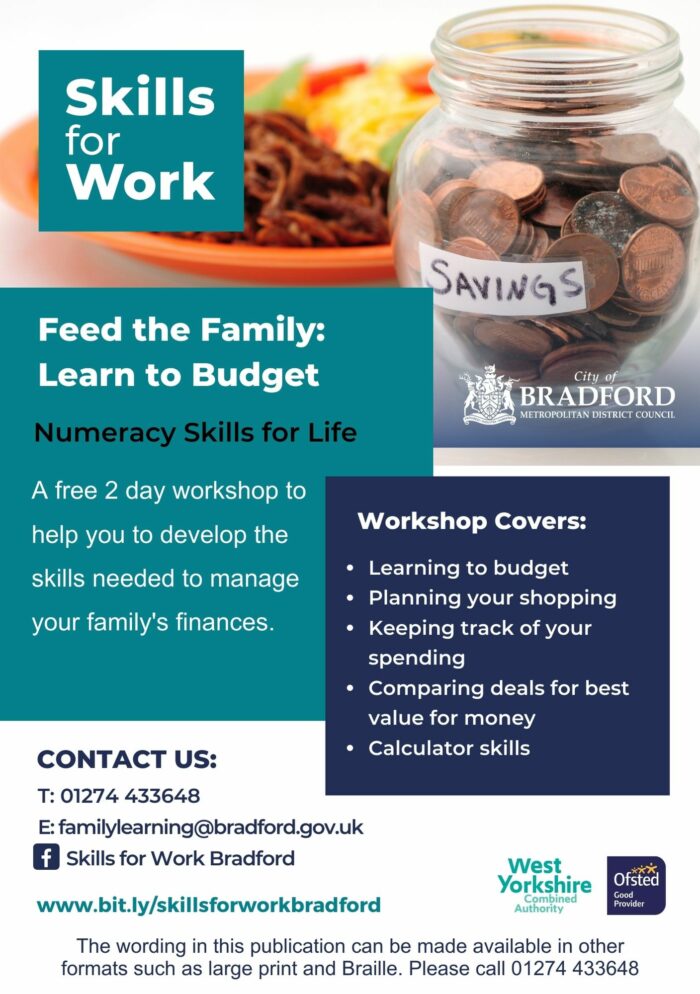 Exciting Adult Learning Opportunities with Bradford College
We are proud to promote the fantastic range of adult learning opportunities currently being offered by Bradford College to the parents and family members (over 19 years old) of New College Bradford students.
Level up your career
Education can unlock so many different worlds, whether you want to gain skills and knowledge to boost your career or change your career direction. As an adult returning to education you will have many demands on your time. That is why we offer a range of flexible, part-time and short course programmes. There's something for everyone, from entry-level all the way to postgraduate study at Bradford College.
Back to basics, we offer Maths, English (ESOL) and employability skills to help you get back into training or employment.
Professional and trade qualifications and apprenticeships to give your career a boost or allow you to try a new direction.
Access to higher education diplomas, foundation degrees, honours and postgraduate programmes for anyone wanting university study.
Leisure Courses – Fun in your free time
We offer a wide range of courses across different venues in the Bradford community. With courses in the morning, afternoon and evening, your learning can be as flexible as your lifestyle. The courses we offer can be used to develop and learn skills, build confidence in a new subject, practice hobbies, personal development, learn a new language or simply to meet new people! Whether on our main city centre campus, our drop in City Park venue, Little Germany or online, it's never been easier to access training, skills development, qualifications or try something new that could transform your life.
Find out more at:
Spring into Learning
In association with Skills For Work, City of Bradford Metropolitan District Council, are proud to promote the following learning opportunities to the parents, carers and families of our students.  See the flyers below for more information.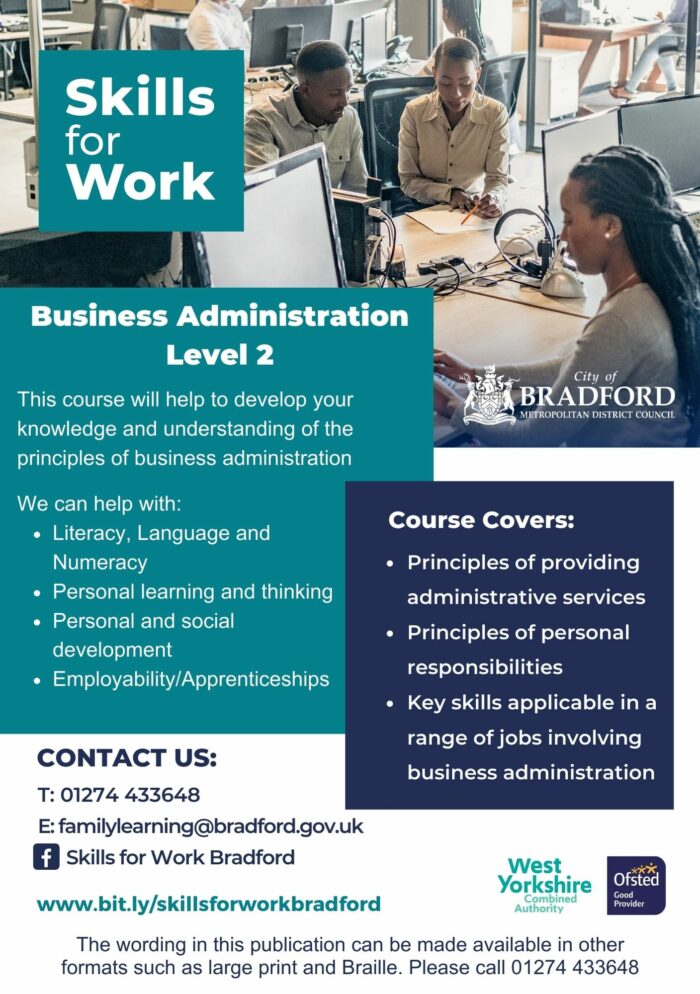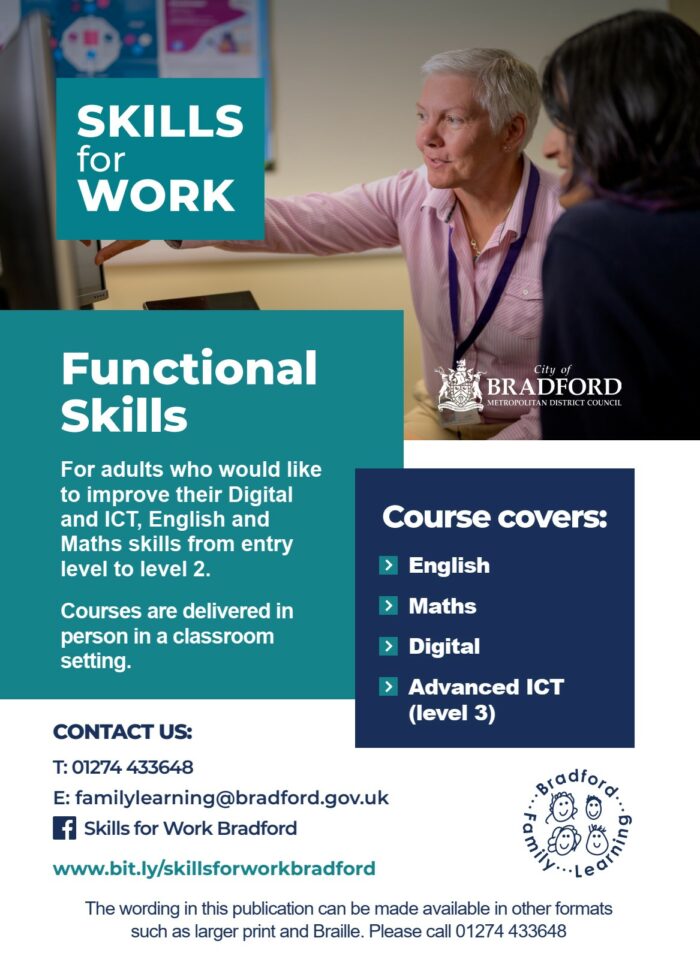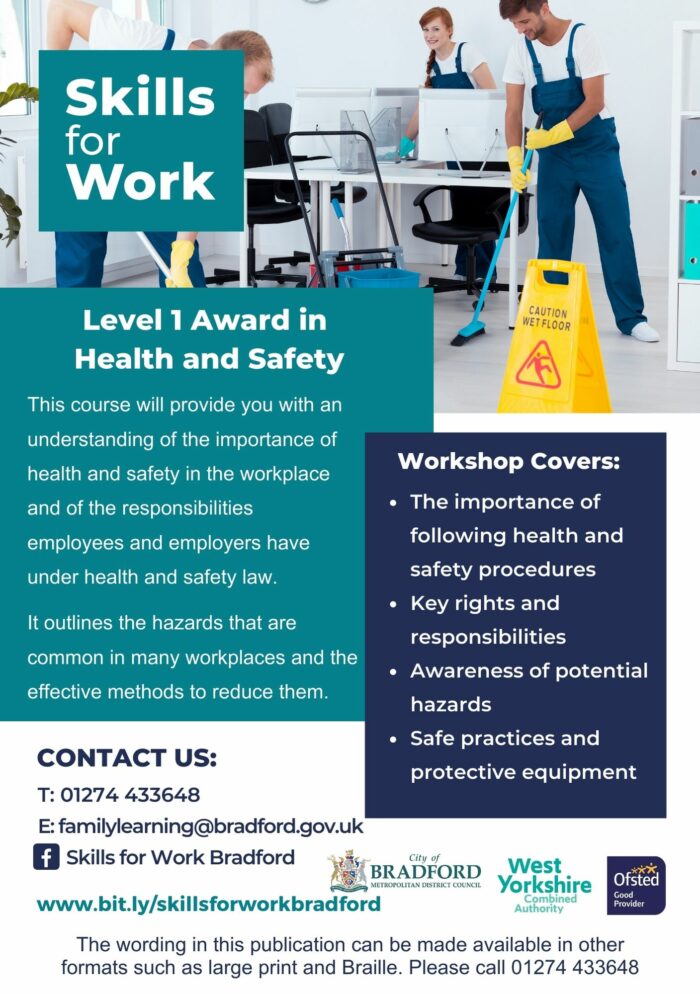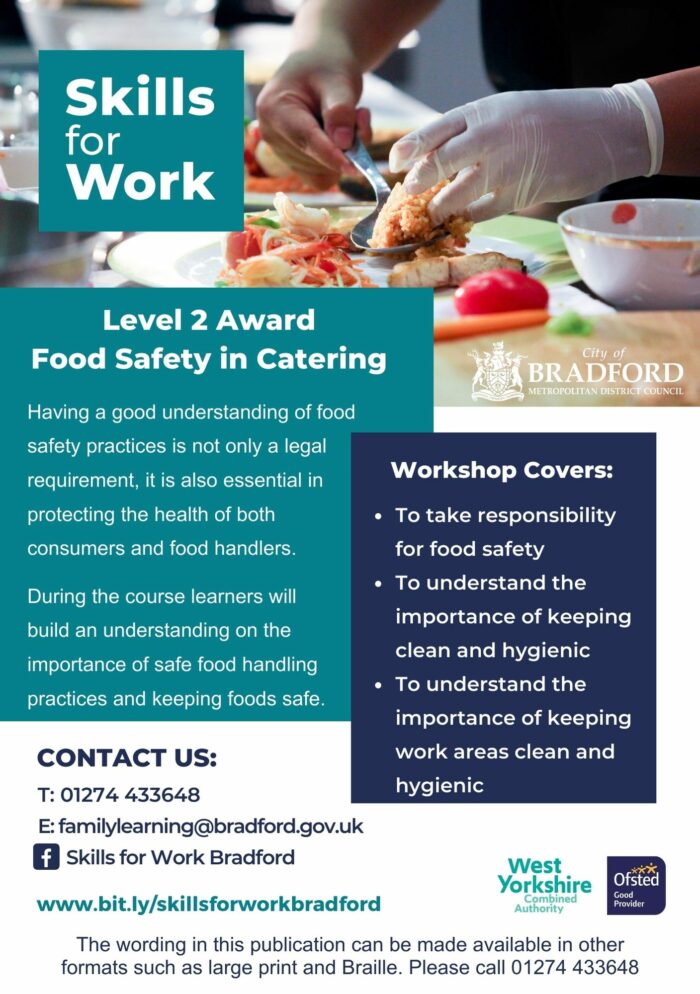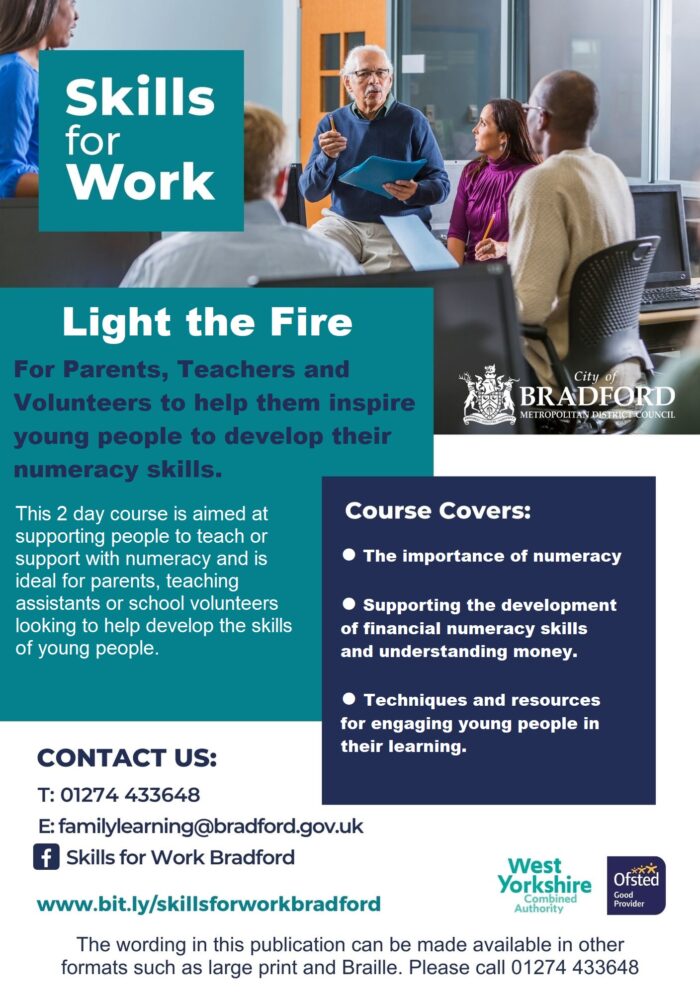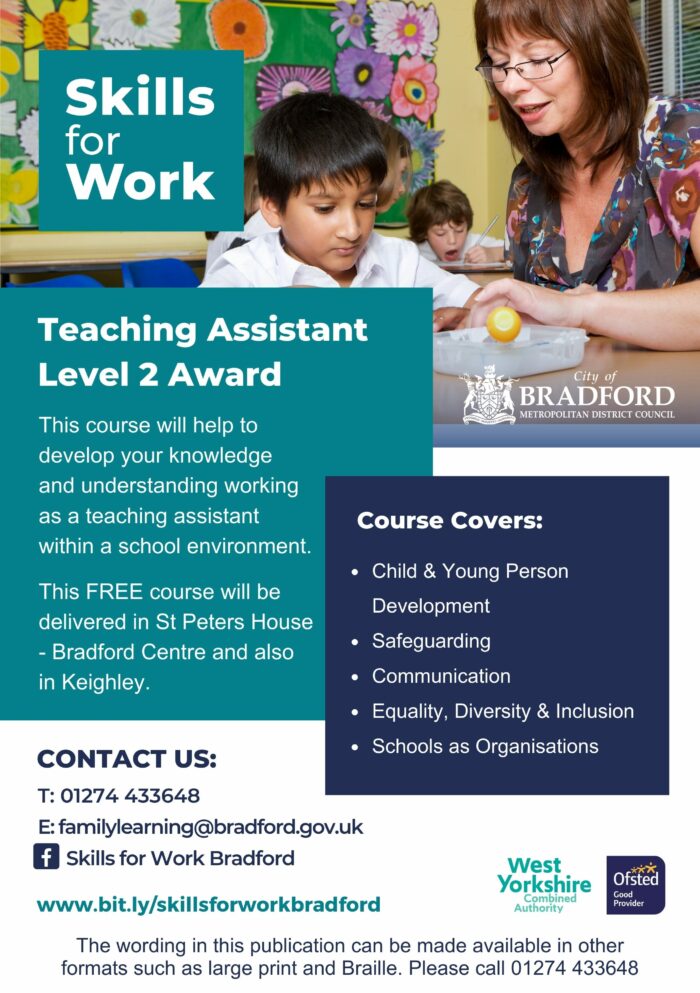 Online Courses:
These courses will be delivered online however learners are expected to attend an induction and their final exam/assessment at St Peters House, Bradford Centre.
· Customer Service Level 2 Course
· Business Administration Level 2 Course
· Level 2 Award in Food Safety in Catering
· Level 1 Award in Health and Safety
Courses and Workshops delivered in person:
Teaching Assistant Level 2 Award:
This course will be delivered over 20 weeks, ½ day per week, we will be delivering this course at St Peters House – Bradford Centre and also in Keighley Library. Spaces are available for both. This course is also available via fast track, delivered over 8 weeks (1 full day, 1 half day per week.)
Functional Skills Maths and English:
For adults who would like to improve their digital and ICT skills, Maths and English up to Level 2. Courses are delivered in a classroom setting.
Light the Fire Course:
For parents, teachers and volunteers to help them to inspire young people to develop their numeracy skills. 2 day course delivered at St Peters House with dates throughout March.