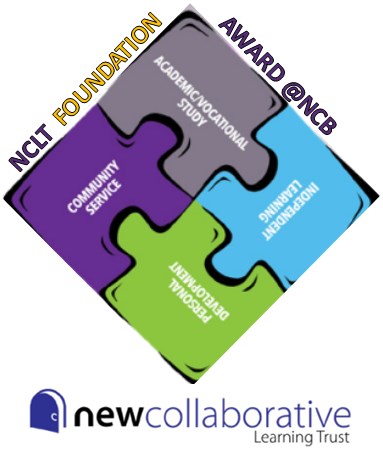 The primary objective of the NCLT Foundation Award is to collaborate with secondary education providers across Bradford, utilising NCB facilities and intellectual capital, to promote aspirant attitudes, enrichment opportunities and enhanced levels of cultural capital across Year 9 and Year 10 cohorts. The framework of the NCLT Foundation Award will reflect the NCLT Award currently offered to NCLT students in collaboration with the University of Hull. Year 9 and 10 students engaging with the programme will be afforded the opportunity to evidence excellence in the following areas: Personal Development; Community Service; Academic/Vocational Study and Independent Learning.
| | |
| --- | --- |
| NCLT Foundation Award Area | Example Activity |
| Personal Development | Public Speaking Competition at NCB. Following qualification rounds to be held at the secondary schools, Year 9 and 10 qualifiers would be invited to speak at the NCB Theatre with 'guest judge', for example Lord Mayor. Parents and secondary staff organisers invited to attend. The topic for the public speaking would be 'How have I shown the value of (Candour/Commitment/Challenge/Collaboration/Care) in my school or local community and how can we promote this further across Bradford? |
| Community Service | NCB Student Executive to work with Year 9 and 10 students in a community project (for example speed awareness/sustainability/keeping Bradford litter free) to create an information stall to be held in Centenary Square supporting the Purple Flag Bid and UK City of Culture Bid 2025. |
| Independent Learning | Year 9 and 10 students create an EILP (Extended Independent Learning Project). This is to reflect a topic of personal interest and can be in a format of their choice. For example, an essay on Sir Titus Salt, a collage of Hockney, a rap or poem outlining immigration to Bradford over the last century. This work would then be showcased on the NCB website and Open Events to highlight community engagement. |
| Academic/Vocational Study | Accessing 'enrichment activities and opportunities' at New College Bradford. These will supplement the cultural capital of the young person, and for some provide opportunities that might not be feasible to offer at secondary partners. For example, French and Spanish masterclasses; Music Technology; Dance, lighting and theatre design; dissection; critical thinking and philosophy; STEM; How We Learn, metacognition and preparing for GCSE exams; Sports including representing their school at the NCLT Foundation Award Olympics. |
Students would receive enrichment specific awards, for example, public speaking trophy, alongside NCLT Foundation Award Certificates. These would evidence participation, engagement and achievement. For those who engage with three or more opportunities from the 'NCLT Foundation Award Menu', a NCLT Foundation Award Portfolio will be supplied for the student for safekeeping of certificates. For those who then decide to apply to NCB at the end of Year 11, a Contextual Offer will be made of a reduced average GCSE Point Score threshold based upon their participation in the Foundation Award and achievement across all four areas. For engagement in specific subjects, for example Music Tech, a subject specific Contextual Offer may be considered.
To find out more please contact
01274 089189
Click the links below to read our latest blog posts
Click the button to visit the full blog website