Adam Corbally, motivational speaker and finalist on BBC's 'The Apprentice', was the keynote speaker at New College Bradford's Inaugural Festival of Progression. Adam's presentation was an inspiring way to start the day for the 90 able and talented students who joined us from across 11 Bradford secondary schools. Following this, Adam moved to the classroom, where he worked with 28 budding entrepreneurs throughout the morning to develop their business skills. Some of the student feedback included:
'Loved doing the business presentation and improved some of my skills'. (Celestina – Bradford Forster Academy)
'I loved the dragons den the most.' (Aroosh – Carlton Bolling College).
'I enjoyed learning how to create a business ides'. (Mohammed Anas – Beckfoot Upper Heaton).
'I really enjoyed the inspirational speech as he had given a lot of motivation'. (Pavel – Bradford Forster Academy).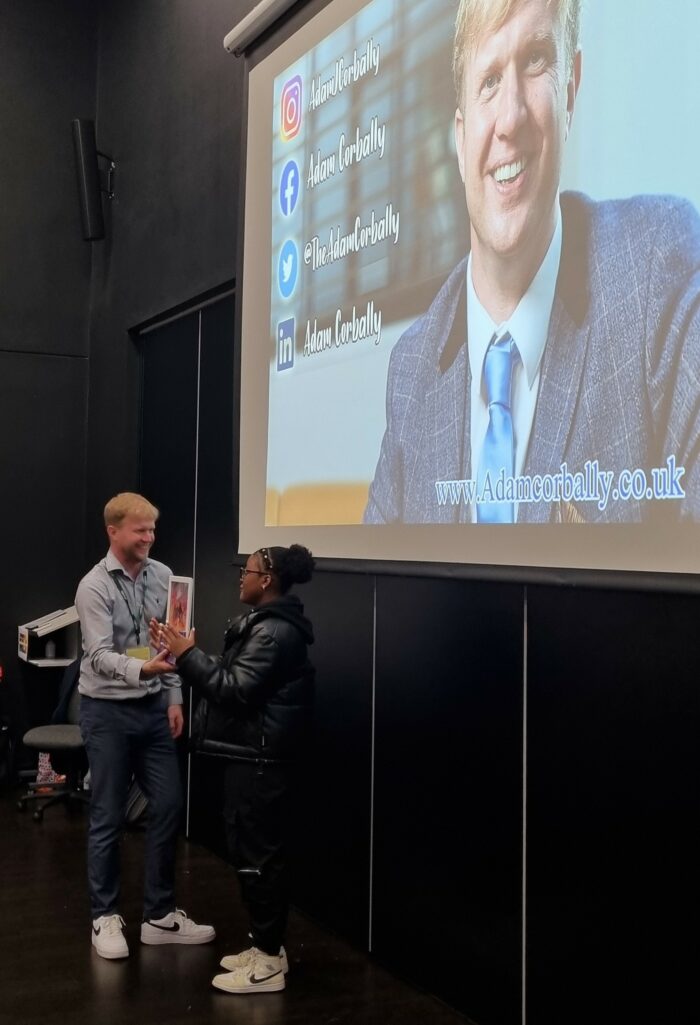 Inviting external speakers into NCB to present to our students is an integral part of our Personal Development Curriculum which was seen as a strength during our recent Ofsted monitoring visit, in which we received the highest possible grading across all inspection areas. In addition, 83% of our Year 13 will progress to university this Autumn. Being part of such experiences at NCB was instrumental in their applications.
Thank you again Adam, we look forward to welcoming you back to New College Bradford soon.
If you want to experience New College Bradford for yourself, why not attend one of our Open Events:
SATURDAY 15 OCTOBER 2022 – 10am-2pm
TUESDAY 15 NOVEMBER 2022 – 4:30pm-7:30pm
MONDAY 6 FEBRUARY 2023 – 5pm-7pm