In the Summer, New College Bradford hosted the Inaugural Festival of Progression.  90 able and talented students from across 11 Bradford secondary schools joined us at NCB for a fun packed day of opportunity.  This included experiencing an A Level lesson, working with BBC's 'The Apprentice' finalist Adam Corbally, and trying out something different based upon our extensive enrichment offer.  83% of our Year 13 will progress to university this Autumn.  Their experience of Personal Development at New College, which includes our wide-ranging enrichment offer, was instrumental in their applications.  Our Personal Development Curriculum was seen as a strength during our recent Ofsted monitoring visit, in which we received the highest possible grading across all inspection areas.
A key external partner who supported NCB during our Festival of Progression was Dimitri Ogden of FlameOz.  Leading a series of circus skills sessions, our visitors from the 11 secondary schools left NCB having tried something new, but also learning a bit about themselves, self-confidence and self-belief.  Even our Principal Stuart Nash decided to join in with the juggling!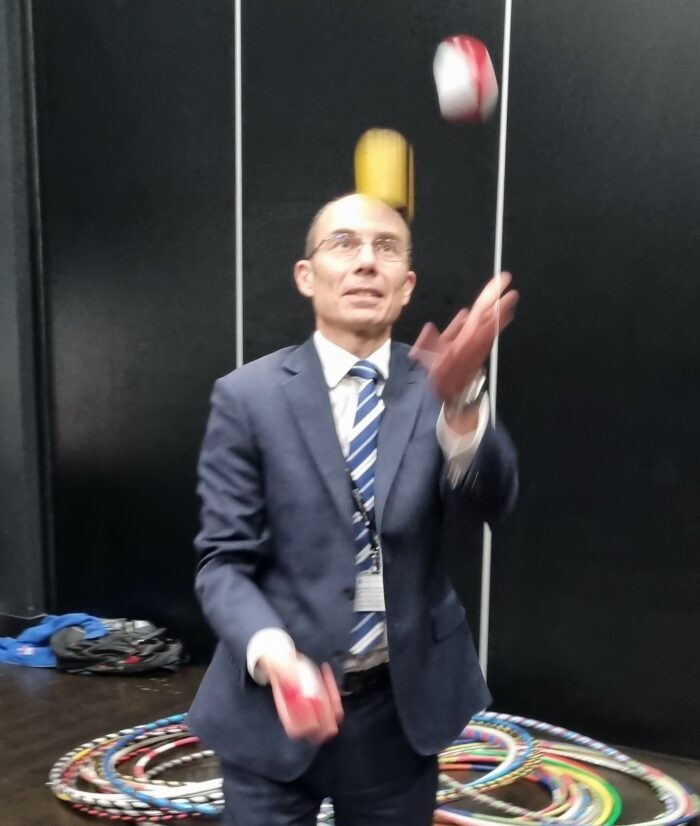 Some of the student feedback included
'My favourite activity was the circus as it was independent and fun'. (Aiyla, Dixons Cottingley Academy).
'I loved the circus and I learnt some new tricks'.  (Amelia, Bradford Forster Academy).
'Very fun and exciting. Enjoyed the circus, experience was amazing'.  (Aymona, Carlton Bolling College).
'Loved trying out some circus skills. Would do it again'.  (Celestina, Bradford Forster Academy).
'Really fun, especially the circus'.  (Ishtiaq, Carlton Bolling College).'I had lots of fun doing circus skills.' (James, Bradford Forster Academy).
'Far more enjoyable than I expected, loved the circus act the most'.  (Katie, Bradford Forster Academy).
New College Bradford want to again thank Dimitri Ogden of FlameOz for leading such engaging, exciting and inspiring sessions.  
If you want to experience New College Bradford for yourself, why not attend one of our Open Events:
SATURDAY 15 OCTOBER 2022 – 10am-2pm
TUESDAY 15 NOVEMBER 2022 – 4:30pm-7:30pm
MONDAY 6 FEBRUARY 2023 – 5pm-7pm